Students, parents, and guardians,
We're here! You're there! We're gonna be okay!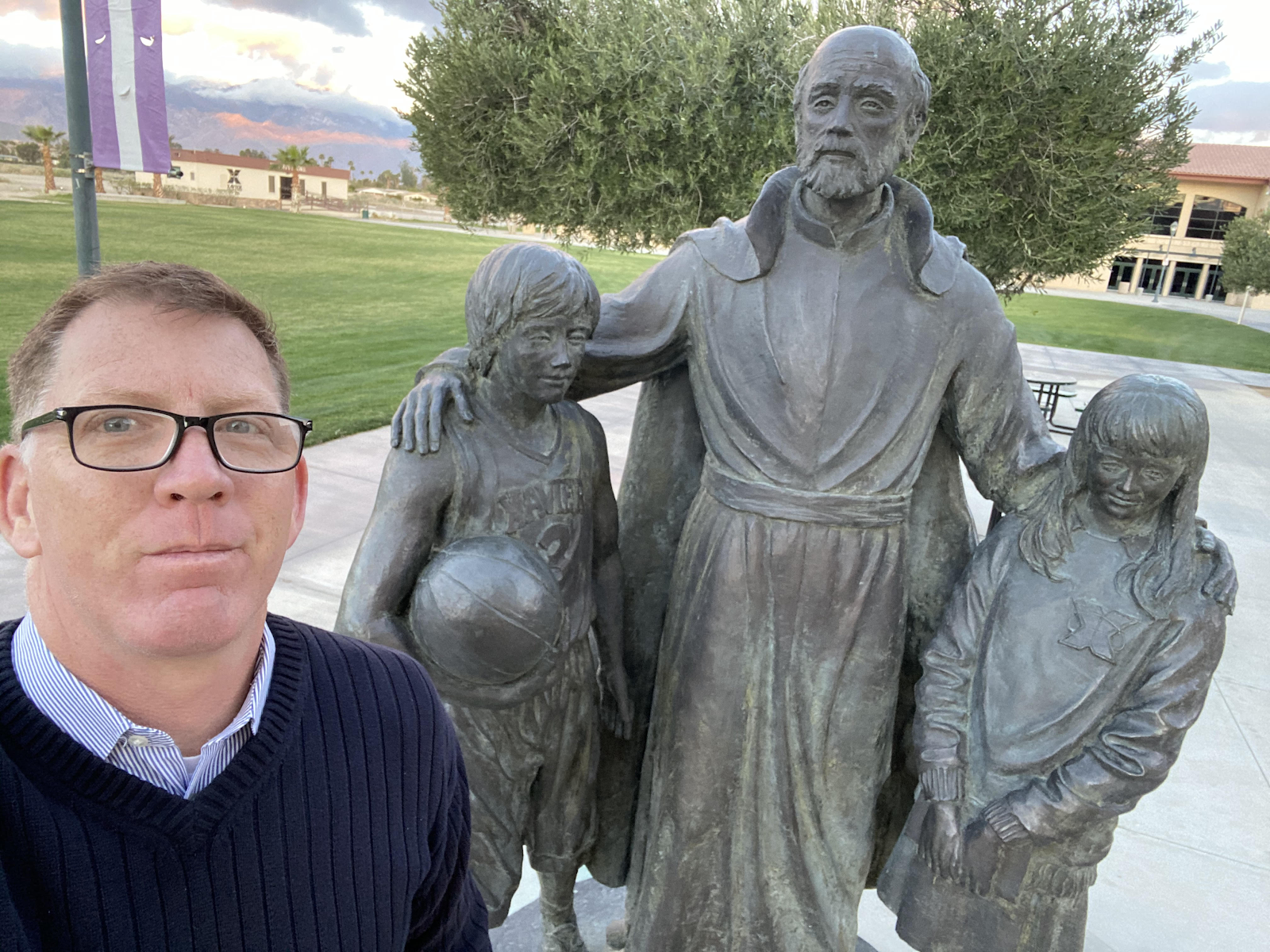 This may be a longish message with lots of information. Please read slowly and carefully.
If you need to hear the sounds of your Xavier home away from home...click bugle charge!.
In the midst of all this change, Xavier teachers and students are working hard to keep it as normal as possible. Here are a few updates:
Per the Riverside County Office of Public Health, all Riverside County Schools will remain closed until April 30th. Xavier, therefore, will continue to conduct classes online through Friday, May 1st.
The school's main office is now open from 8 am until 1 pm. We have minimal office staff on site. We'll continue to do our best to check voicemail and return emails and phone calls in as timely a manner as possible.
If you or your student needs materials left at school in a locker, please feel free to come up and get those materials between the hours of 8 and 1.
Follow the recommended protocols from the CDC and County regarding prevention and containment.
Watch the Xavier website and your email for updates. Emily Glenn, Director of Curriculum and Instruction, and Adrian Torres, Director of Scheduling and Academic Programs, are the coordinators for our online programs.
We will move to a different class schedule starting Monday, March 23rd. Our "online practice days" last week and our experiences online this week, along with the survey responses from students, parents, and teachers have helped us create what we think will be a better schedule moving forward. I'm very grateful for your patience. For a You tube video explaining next week's schedule click here.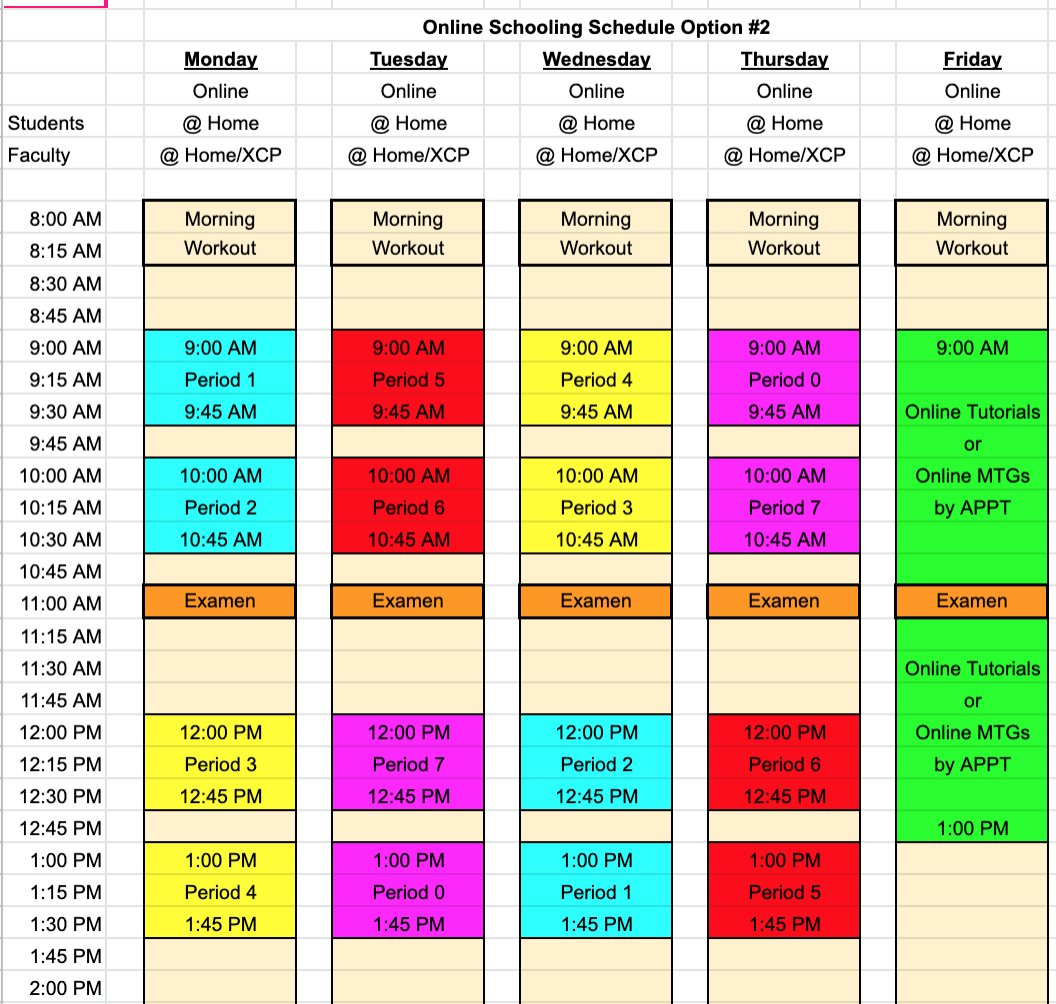 4 periods meet synchronously each day
Periods are 45 minutes in length
There is a morning block and an afternoon block
Each period meets twice each week: once in the AM and once in the PM
Classes start on the hour at 9AM, 10AM, 12 noon, 1PM (yes, we start at 9AM...late start for everybody!)
Mornings start with online physical education component offered @ 8AM:

All students, faculty, and staff are invited to join the 30-minute online workout
Freshmen are required to attend (2x per week)
HEALTH would meet in regular period slot (2x per week)
ZERO-period is now included in the rotating blocks; if you do not have a zero-period, you have a study hall hour.
Fridays are FLEX days where individual students or groups of students can schedule tutorials or one-on-one online meetings with teachers; please make sure you contact your teacher to schedule an appointment for Friday between 9am and 1pm.

What about all these notifications? If you are feeling overwhelmed by the Google Classroom notifications, please see this tutorial on how to limit and manage those notifications. https://drive.google.com/file/d/1UoFt6wcLb7-NXQbIYlZTdmOQKbVs347m/view (You may need to download this file and then open it).
Be on the lookout for fraudulent emails and phishing scams. Times like these can incline people to take advantage of people working online from home and being inundated with email. Here's a great article from Consumer Reports.
Reminder about cancelled or postponed events:

Sophomore Breakaway Arrupe Retreat, March 20-21
The Spring Musical, March 26-28
Easter X-Stravaganza, March 29
Parent/Teacher/Student Conferences, March 24
Baseball trip to San Jose, April 13-17
All athletic practices and contests through April 30
If you are struggling to find groceries or meals, please be mindful of the "grab and go" distribution centers in each school district. You may check the website of your district of residence for those locations and times. https://dsusd.us/coronavirus; https://www.cvusd.us/; https://www.psusd.us.
Please continue to keep us and each other in your prayers. You and your children, their safety, their health, and their education are our concern...in that order.
Saint Ignatius of Loyola...Pray for us!
Peace, Chris