Students, parents, and guardians,
We're here! You're there! We're gonna be okay!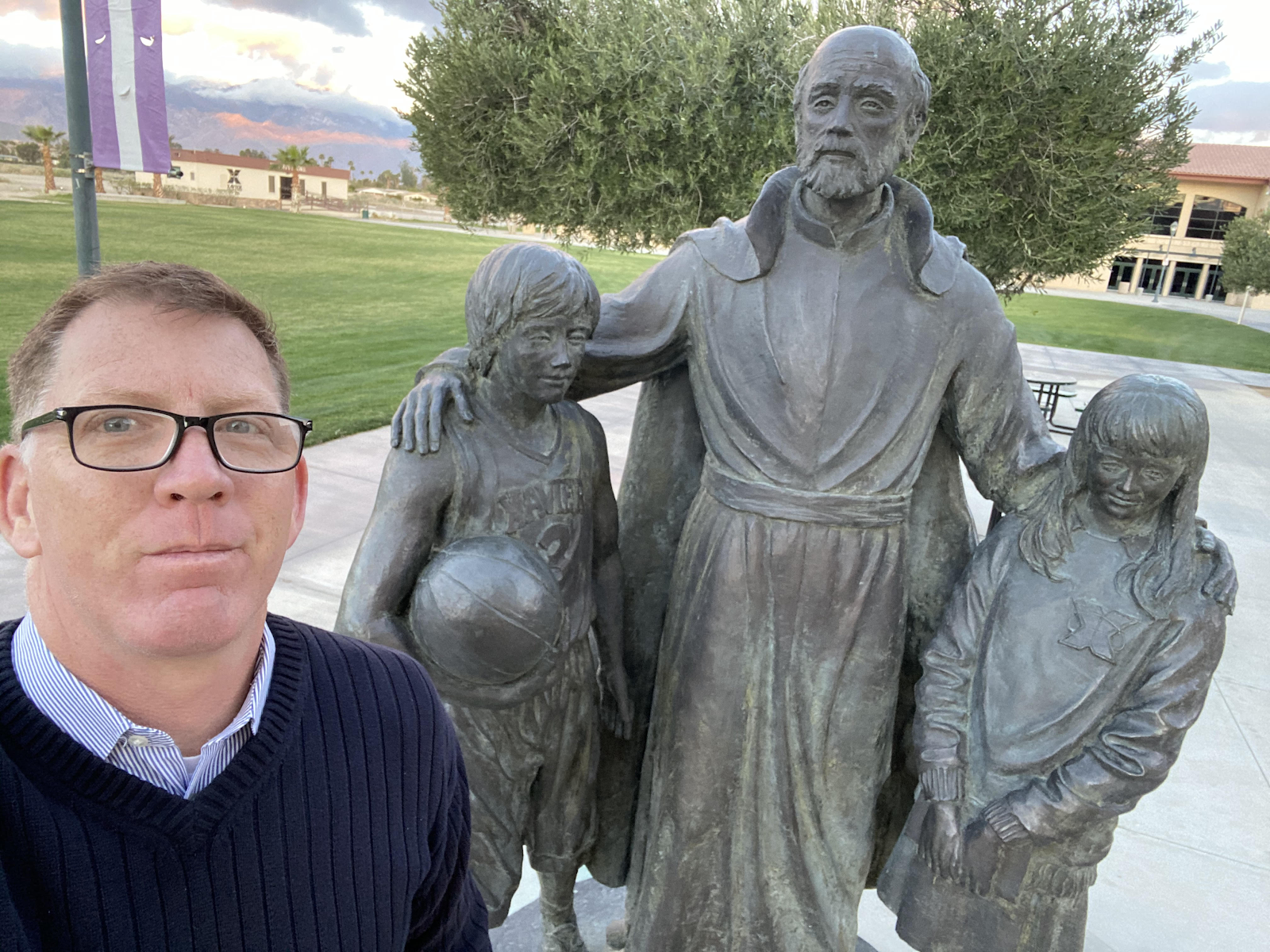 Dear students, parents, and guardians,
July 17, 2020, Governor Newsom announced that public and private schools would not be allowed to return to in-person instruction until the County in which they reside had been off of the monitoring list for 14 consecutive days (you can access that list here).
I believe the reopening plan Xavier faculty and staff put together over the last several months is one of the best plans in our Valley, our diocese, our county, our state, and if I may be so bold, west of the Mississippi. What we drew up in the "huddle" is still our game plan for how we want to take care of our students and their families. But…
"Omaha!" (What QB Payton Manning yelled at the line of scrimmage when he changed the play he had called back in the huddle.)
The Governor's announcement today requires that we adjust until we can get back to our game plan. The stipulations Governor Newsom reiterated today for getting students back in physical classrooms (distancing, PPE, testing, tracing) are all aspects of our current return plan. EVERYTHING else in the press conference today dealt with areas of education where Xavier faculty, staff, and students have demonstrated repeated excellence.
While the mode of instruction and learning has changed from in-person to online, Xavier has not made one compromise when it comes to RIGOR, a word the Governor used a few times. Because we were proactive, because we acted decisively and efficiently, because we always put the students' growth and achievement first, we were able to sustain the same culture of academic rigor that animates our physical classrooms and labs.
I can't speak to the specifics of local student engagement and chronic absenteeism, but some school districts across the country reported that as many as 1/3 of their students did not log in for class after the shutdown in March. This exacerbates the problem of "unfinished learning" and undermines confidence as students move on to the next grade level and post-secondary education.
This was not the case at Xavier when we went online. Our absentee rates (yes, we still took attendance every day) were below what is typical for us when we are physically on campus. We ended the school year by providing means for students to complete their lessons and therefore to be prepared for their best next adventures. When we gave our seniors their diplomas, we were confident that each of them had EARNED them!
To be sure, we all ran into problems, some foreseen, some unexpected, but because of our diligence and commitment, we were able to find workable solutions that continued to improve student growth and achievement. In short, WE were able to figure it out!
I strongly believe that our game plan for returning to school in person is a good one. Its goals remain the same goals that drive us as Jesuit educators and parents:
Keep every kid safe and healthy
Love and care for the whole child, one child at a time
Xavier's faculty and staff have demonstrated the ability to do these things in person or online, in a classroom or in your living room, over a desktop or a laptop. More specifically, we will use the same 4-period block schedule we sent you in the last updated version of the reopening plan (see end of email). We are still reworking final schedules for distribution to students early next week. Thanks for your continued patience. We will adjust appropriately for any summer work that may be difficult to complete due to the delay in getting final schedules to our students.
While the news today will come to many in the Valley as a great shock or relief, for Xavier it's kinda business as usual. We've been doing this now for a few months. The kind of commitment and effort we've put into caring for your students (our kids) gives me great confidence that we're gonna be ok once we snap the ball (remember that earlier football analogy?).
Please know of my heartfelt gratitude for your support, encouragement, and patience. If you have any questions, please feel free to call or email me. Please, also, keep reading our emails carefully so that you don't miss anything.
Peace,
Chris